Responsible investment, applying specialist knowledge to a complex and sensitive sector, to deliver stable, long-term returns and provide positive social impact
Opportunity
Significant investment is required to provide modern homes sufficient to meet both the organic demand increase arising from demographic changes, and to replenish the closure of older stock. We believe that our modern, best-in-class homes, let to tenants who know their local market and can demonstrate a strong care ethos and excellent operational capabilities provide a compelling investment case. Our lease structures, which are long-term with upwards only rent reviews, provide a stable income obtained at attractive pricing and backed by the demographic and demand/supply imbalances.
As the population of the UK grows and its age profile becomes more weighted towards the elderly through increased life expectancy, more people will find themselves needing care and support than has been the case historically.
The number of over-85s, the primary users of care homes, is projected to double within the next 20 years generating an increased demand for care home residency. A recent study has concluded in excess of 100,000 new beds are required in the next 10 years.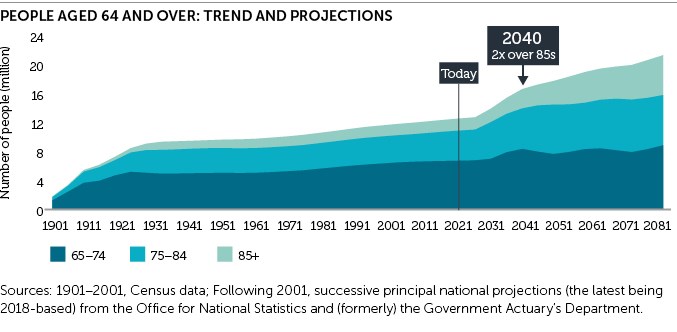 Quality and Supply of Care Home Real Estate
The UK elderly healthcare market remains deeply fragmented and dominated by small owner-managed providers, many using either converted properties or older purpose-built homes. These buildings represent a large proportion of the UK's existing care home stock, yet each can present a difficult environment in which to provide effective and financially viable care. Beds in these properties continue to be deregistered by care providers as sectoral challenges are exacerbated by working in properties suffering from poor design and sub-par facilities. 


Seven-year portfolio total return vs standard deviation 2014-2020 (since the inception of the IPD UK Annual Healthcare Index)
Portfolio returns, as calculated by MSCI, have consistently been characterised as low volatility, high total returns, when compared to other asset classes.